PHOTOS FROM THE FILM AND THE SHOOTING

Synopsis
After wandering for three years in Europe, Daniel, an artist painter, returns home, to a small remote village somewhere in Israel. Nobody knows why he came back and how long he will stay. Meanwhile, we meet the Frizer family whose only daughter Lila, a former ballet dancer, is now bedridden and can't stand her life anymore.
The film explores the depths of what love sometimes demands of us and how memories, fragile and fleeting, are sometimes all we have.
Technical sheet
Co-production: Magora (Fr) -Transfax (IL)
Produced and Directed: Raphael Rebibo
Producer, Israel: Marek Rosenbaum
Associate producer: Martine Fitoussi
Director of Photography: Rami Agami
Production Manager: Tomer Lahmy
Assistant director: Gilad Avni
Assistant Operator: Yair Alper
Assistant Operator: Adam Salomon
Production Designer: Giyora Bergel
Sound engineer: Oleg Kaizerman
Music: Yaniv Taichman
Editing: Ben Tzion Abramyan
Boom operator: Lior Guy
Chief Electrician: Rami Levy
Make-up artist / Dresser: France Hyman
Chief Machinist: Elie Levy
Production Assistant: Ouri Marez
Assistant Electrician: Sergei Kanez
Set Photographer: Shir Ami
Cast of actors
Daniel : Liron Levo
Lila : Or Ilan
Rony : Dan Turgeman
Stella : Nataly Attiya
Alice : Anat Atzmon
Albert : Gil Alon
Mira : Tamar Shem Or
Rachel : Shosha Goren
The doctor: Gal Friedman
The nurse: Naama Amit
The Inspector: Moshe Ivgy
The Rabbi: Shlomo Raz
The man at the reception: Gérald Akhimoff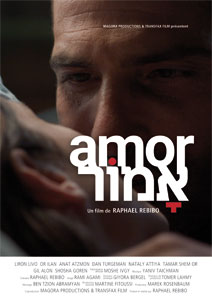 Film selected in several festivals:
• Dijon Film Encounters 2016 (France) • IFF Los Angeles 2016 (USA) • MJFF Miami 2017 (USA) • PBJFF Palm Beach 2017 (USA) • SDJFF San Diego 2017 (USA) • JDDF Detroit 2017 (USA) • Ciné Croisette Cannes 2017 (France) • RIJFF Rochester 2017 (USA) • JFF Columbia 2017 (USA) • IAC Cinematec New Jersey 2018 (USA) • BRJFF Boca Raton 2018 (USA) • GPJFF Greater Phoenix 2018 (USA) • J&IFF Mayerson Cincinatti 2018 ( USA) • JFF Saratosa Manatee 2018 (USA) • FCIM Montreal 2018 (CANADA) • AHFF Massachussets 2018 (USA) • JCC Chicago 2019 (USA) • Cinémathèque Tel-Aviv 2019 (Israel) • Mairie Akko (Israel) / Mairie Saint Mandé 2019 (France) • Hadassah 2019 (France) • FIFH 2020 (France) • FCI Carpentras 2021 (France)